Like many other areas in the U.S., the Tucson real estate market has been hot throughout 2021. With a small amount of inventory, plenty of interested buyers, and rising home prices, it's no wonder that records are being set all over the nation.
However, these trends don't make the recent sale of a $4+ million property in Tucson any less impressive. The median price of Tucson homes for sale has risen nearly 20% in the last year but still sits at just $305,000. This means a home sale in the multi-millions is unique. Among the 2500 homes on the market currently in Tucson, there are only 115 priced at over $1 million, and only six that are priced above $4 million.
If you're looking for Tucson luxury real estate—or planning to sell—knowing more about this historic sale may help when it comes to determining what amenities to look for, and what agent to work with.
1416 Smokey Springs
The Tucson luxury property that was recently sold at 1416 Smokey Springs is a nature lover's dream come true. Nestled on a 20-acre estate, the home is located along the Tanque Verde Creek and is enclosed behind an ornate French iron gate. Surrounded by a motor court and featuring immaculately tailored landscaping, it's no wonder that this property was recently featured on the cover of Phoenix Home & Garden.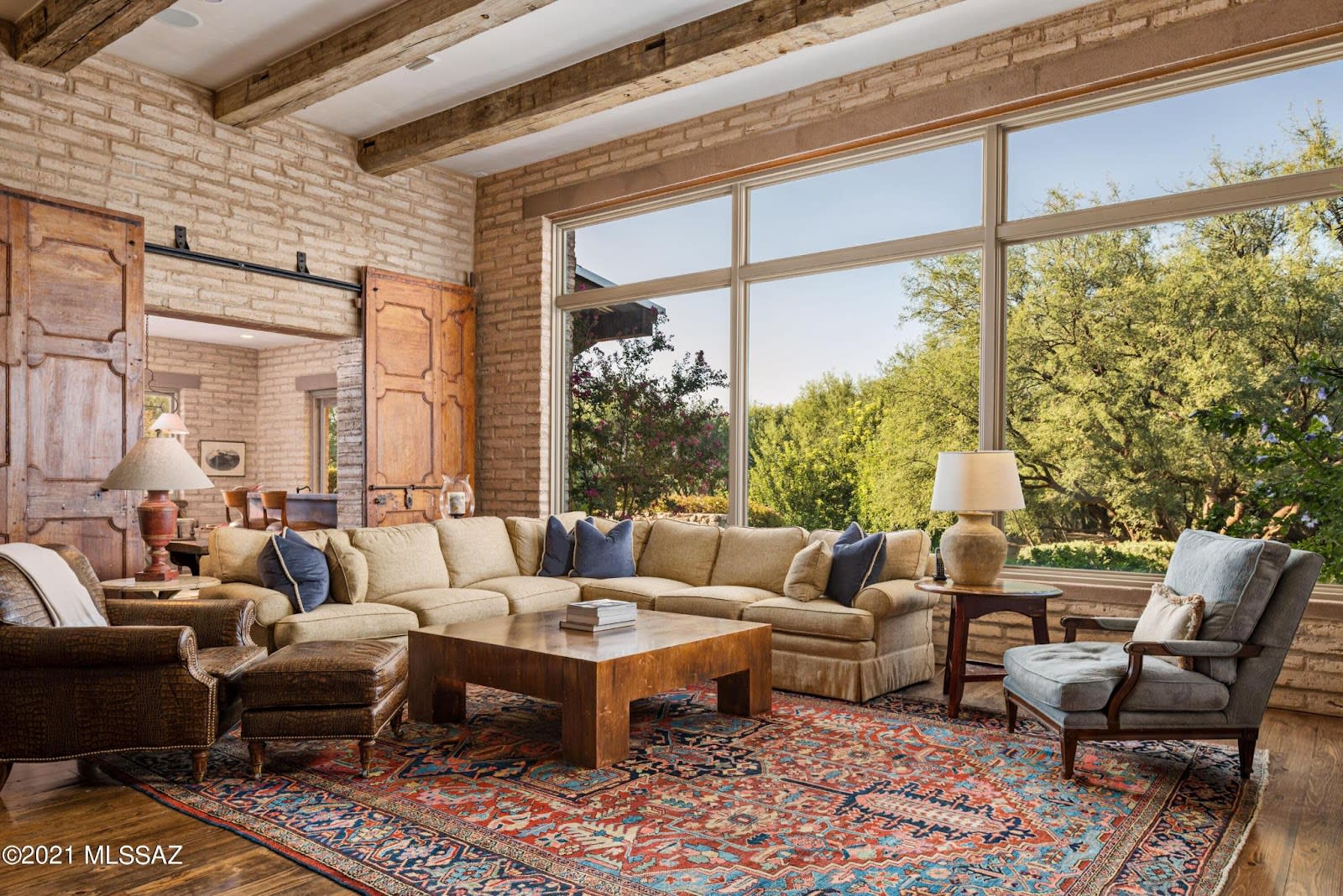 Huge antique oak doors provide a stunning entryway to this luxury home that was originally built in the 1800s. Though the property has been thoroughly remodeled, aspects of the original structure remain—especially in the areas that reflect the home's former identity as a stagecoach stop.
Reclaimed materials exist throughout the home from the barn wood-beamed ceiling and pine floors in the living area to the brick floors and brick pizza oven in the kitchen. These are enhanced by modern materials and amenities such as state-of-the-art appliances, Caesarstone countertops, and high ceilings.
The new owners of the home will benefit from the secluded master suite that opens up to a private veranda, as well as the spa-inspired master bath, outdoor shower in a private enclosed garden area, and full outdoor kitchen.
Tucson luxury home buyers who love to ride horses would be thrilled by the home's equestrian amenities, which include a fully equipped tack room, four horse stalls, a riding area and wash station, and easy access to nearby riding trails. Next to the horse facilities is a chicken coop, a large water storage tank, three different wells, and a guest house.
The home, which clocks in at more than 8,800 square feet, sold for the highest amount of any property in the area since 2007.
The seller's agency
As anyone who has sold Tucson luxury real estate knows, it's not just about the property, but also about the agent when it comes to getting top dollar. The sellers of 1416 Smokey Springs chose correctly when they contracted with Gray St. Onge to sell their property. The team, which consists of Jameson Gray and McKenna St. Onge and their support team, has more than $600 million in closed sales and is in the top 1% of all sales associates nationwide.
The Gray St. Onge team is focused on building client relationships that last and enjoy working with luxury properties. They understand that clients with exclusive properties have a greater need for privacy and the agents often curate interested buyers from their list of connections to limit the number of people who see a home.
The team members also ensure they have a strong network of other agents and other professionals in the Tucson luxury real estate market who can help them with their clients' needs. Whether they are helping a client buy a Tucson estate or are assisting a seller get the most out of their home sale, Jameson Gray and McKenna St. Onge will do what it takes to provide the personalized service their clients expect and deserve.
Tips on selling Tucson luxury real estate
Do you have a multi-million dollar piece of Tucson luxury real estate you want to sell in 2022? In addition to working with an experienced agency like Gray St. Onge, here are some other tips to help you get the most out of your sale:
Understand your goals for selling. The owners of 1416 Smokey Springs were not in a hurry to sell and were able to give the Gray St. Onge team the time they needed to find the right buyer for the unique property. When you prepare to sell, communicate with your Tucson luxury real estate agent about your goals. Do you need to sell quickly, so you can relocate for a new career opportunity or because you've already purchased another home? Or can you be patient and allow the agent to do what it takes to get you the highest possible offer?

Make sure the property is prepared for listing. To make your home as appealing as possible, take some time and money to have it professionally staged, deep cleaned, and boost curb appeal by replacing entryway and garage doors, making sure your landscaping is neat and tidy and repairing any visible damage to walk or driveways.

Price it competitively. Pricing luxury Tucson homes for sale can be difficult, especially if there are not many other properties listed in your price range. Make sure you work with an agent experienced in selling homes in your price range to ensure they set a price that is enticing to buyers without leaving money on the table.
Are you ready to get top dollar for your Tucson luxury home?
Though you may not set any records with your Tucson home for sale, you can still earn top dollar for your luxury real estate. When you're ready to take the next step, reach out to Gray | St. Onge for expert local insights, keen negotiation, and the best customer service in the Tucson real estate market. If you're ready to sell, contact Gray | St. Onge today.