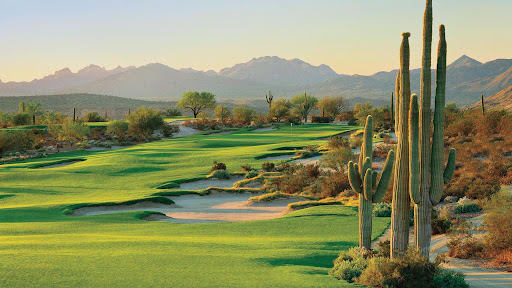 One of the best things that Tucson, Arizona is known for is its golf courses. Whether you're a veteran golf player, a beginner, or you just want to have fun, there is something for everyone at one of these golf courses. Keep reading to see which ones you should check out!


Ventana Canyon Golf & Racquet Club
This esteemed
private club
is situated among the breathtaking backdrop of the Santa Catalina Mountains. With two challenging yet playable for all skill levels Tom Fazio-designed golf courses, playing here is an experience unlike any other. The fairways and greens wind through the 600-acre high Sonoran Desert, creating a mesmerizing environment. For 35 years, Ventana Canyon Golf and Racquet Club has enjoyed championship golf.
Location: 6200 North Clubhouse Lane Tucson, Arizona 85750
La Paloma Country Club
At
La Paloma Country Club
, you can partake in 27-holes of golf, designed by Jack Nicklaus. Set amongst the Saguaro cacti and the Santa Catalina Mountains, this course touts seven tee boxes per hole, allowing you to completely customize your gameplay. Additionally, the club sports a training facility and a staff of learned professionals who are ready to help you take your skills to the next level.
Location: 3660 E Sunrise Dr, Tucson, AZ 85718
Stone Canyon
With private membership, panoramic mountain views, and nineteen wholly unique holes, the golf course at
Stone Canyon
offers a golf experience unlike any other. With every hole sporting at least five separate tee pads, this golf course is suitable for all players.
Location: 14320 Hohokam Village Pl, Oro Valley, AZ 85755
The Gallery Golf Course
For an exquisite game, book a tee time at
The Gallery Golf Course
. The two courses at this club have been masterfully designed to offer players two unique styles of play while both remaining true to the gorgeous Arizona landscape.
Location: 14000 N Dove Mountain Blvd, Marana, AZ 85658
The Golf Club at Dove Mountain
One of the most distinguished golfing locations in the high Sonoran Desert is
The Golf Club at Dove Mountain
. The Jack Nicklaus Signature Design course spans 27 holes, offering a full day of gameplay, and with elevations from 2,300 feet to 3,200 feet, even scratch golfers will be challenged.
Location: 6501 W Boulder Bridge Pass, Marana, AZ 85658
Want More?
If you're interested in learning more about residential golf course properties, new home listings in Tucson, or Stone Canyon real estate, please contact
Gray | St. Onge
for more information.